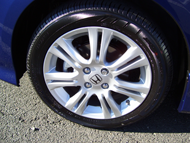 Best Tire Shine for any Car Wash Business
---
5 Gallon Pail

Contains 33% silicone

Perfect for in-tunnel and touchless shiners

Great results bring repeat business
If you are in the car wash business you know how important a quality tire shine is to repeat business. Our Best Tire Shine is the best on the market. High shine and durability. After years of research and development, we've created a tire shine that exceeds all the others. 
Available in oil based or water base. GREAT SHINE !
Most silicone tire shines contain 20% silicon. Our tire shine contains 33% silicone.  This product is perfect for tunnel applicators.
---
Share this Product
---
More from this collection